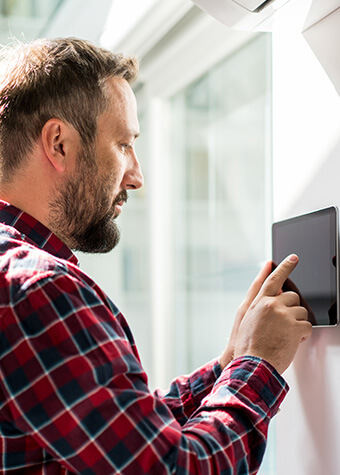 Simon XT/ XTi/ XTi-5
The full Simon product line-up, from the Simon XT to the Simon XTi-5i, provides a simple-to-install, easy-to-use solution to enhance your safety and the security of those things that matter most.
This self-contained system can include a microphone for emergency two-way communication with monitoring station personnel, and a backup power supply that keeps the system operational during power failures.
Emergency fast-action buttons are designed to quickly summon Fire, Medical or Police assistance, an integrated siren provides effective alert notice throughout the home and the system includes a speaker for voice audio status messages and prompts, live communications with monitoring station personnel and configurable "voice chimes."
In addition, easy-to-read 5" color Simon LCD touch screens can be integrated to show an at-a-glance status of home and property. The user interface can be set to match the same look as the mobile phone security application. Users can also control lights, thermostats, door locks, garage doors and other Z-Wave®-enabled devices for enhanced convenience, safety and value.
Concord 4
Concord 4 is a full-featured security system for residential and commercial intrusion as well as residential fire detection that complies with false alarm standards. Easy to install and simple to use, Concord's modular design and advanced software provide outstanding system flexibility to meet the needs of virtually any residential or commercial security application.
Six Partitions and Eight Built-in Hardwire Zones – 96-Zones Maximum as Either Hardwire, Wireless, or Combination
96 Wireless Zones Standard Onboard (600-1021-95R only)
Two Onboard Programmable Outputs
Compatible w/All Interlogix® Crystal and SAW Learn Mode Sensors
SIA CP-01 False Alarm Reduction Standard Compliant
2- and 4-Wire Smoke Detector Compatibility
Panel Auxiliary Power Provides 1 Amp
Built-in 12 watt Siren Driver